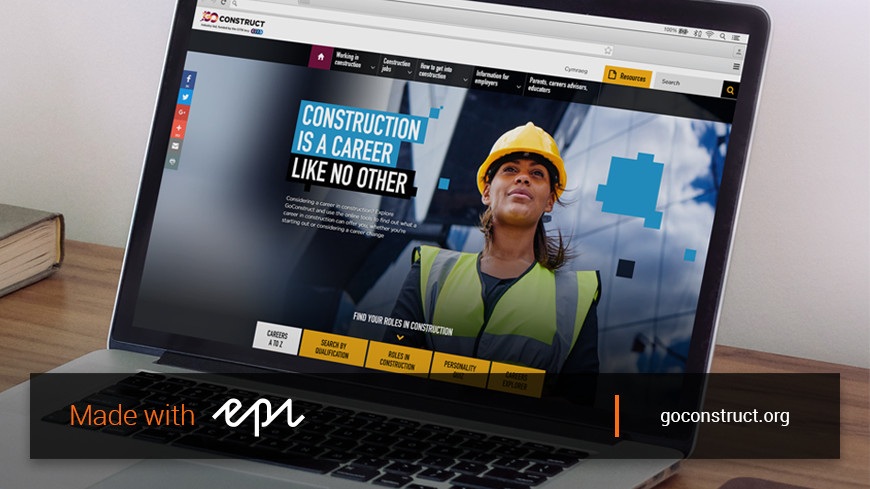 EPiServer partners & experienced EPiServer developers
S8080 are an experienced and creative UK EpiServer partner developing and supporting user centred designed websites with EPiServer, the world's fastest growing provider of content management, online social community and e-commerce platforms.
EPiServer is a .NET Content Management and e-commerce product range providing a robust, flexible and highly customisable software platform for enterprise level website development.
Our EPiServer CMS developers have delivered many high profile and complex .NET based websites for public sector and private sector clients including the Department of Energy and Climate Change (DECC), HM Cabinet Office, CITB Construction Skills, Ministry of Justice and the Duke of Edinburgh's Award.
As well as being extremely creative in approach and delivery, S8080 is a very technical EPiServer partner agency with a vast knowledge and experience in bespoke development and optimising performance from a technical and user experience perspective.
Security is vital to us and our clients so we offer setup of hosting, security hardening, PEN testing and provide consultancy on server infrastructure requirements (we hold IL2 classification and have Counter Terrorist Check clearance).
---
Doing EPiServer well…
S8080 look after some of the most important websites in the country (No.10 Downing Street for example), we are often called in to help breathe new life into an existing website, helping update the site, secure it and increase its performance.
We recently helped CITB, the national training organisation for construction in the UK, implement EPiServer, embedding it into every aspect of their vast national organisation. We'll let Jane Gleave, Head of Communication and Marketing at CITB have the last word...
S8080 are by a long way the best digital agency I've ever worked with.

They worked with us, very much in partnership, in a very supportive way on a very large complex project with lots of issues (none of their making). They were at all times very positive, solutions driven and we felt they were always there to help – above and beyond what one would normally expect of an agency.

Working with them my whole team and I developed trust and respect for their expertise on both the creative and technical side. We really enjoyed working with them and would love to do so again.
Jane Gleave, Head of Communications & Marketing, CITB
---
EPiServer CMS - everything for your online presence
It's critical to manage your online content in an easy and effective way. Content is still king, whether it's text, images or other types of media. You need it to drive traffic, engage the audience and make them come back. You also need tools for social media sharing and blogging. If you can't update your website regularly and efficiently to keep up with today's demanding website visitor, then you run the risk of not generating your full potential business value online.
EPiServer has several products for content creation and management that we can implement for you:
EPiServer 7 CMS
EPiServer Social Reach
SiteAttention for EPiServer
---
EPiServer relate
Adding social and community-focused elements to your website is critical in today's conversation economy. Your visitors now have higher expectations on their online experience and want to be heard by you. The benefits of socializing your business are countless: better information, stronger relationships, increased customer trust, higher conversions and more repeat business.
Socialize your website and get closer to your customer with EPiServer Relate
---
EPiServer commerce
Shopping online is mainstream, and there's no slowing down the online business growth. But it does mean competition is fiercer. Managing the whole commerce cycle, from the point where users research options and review other visitors' opinions, through to the purchase, delivery and ongoing customer care, requires you to have the right solution in place to deliver a wholesome online shopping experience to keep customers coming back for more.
Use EPiServer Commerce to build online stores and grow your sales
---
EPiServer communication
Almost every business wants customer relationships that go beyond the transactional. You want to reach out and touch your customers, and you want to do it in real time, see the results and be able to optimize continuously to improve your website, so it reaches the desired results. Outbound email is one of the most effective ways to communicate and trigger a response. That's why it's important to create customized email newsletters with high-value information and measure the results throughout the communication cycle to continuously improve the click-through and open rates.
EPiServer products and services that can help you manage the marketing communication campaign cycle are:
EPiServer Mail
EPiServer CMO
---
What about other platforms?
S8080 develop websites using many content management systems including the enterprise level EPiServer, Umbraco, WordPress and Drupal. Each one has its own strengths. If you would like to discuss using an alternative CMS for your website, please let us know. We are a very flexible agency.