The very thought of a data breach is terrifying to the type of clients we work with.
But they can rest assured because for many years, S8080 have held recognised cyber security certifications, aligned with up-to-the-minute information security best practices:
Cyber Essentials
Cyber Essential Plus
ISO 27001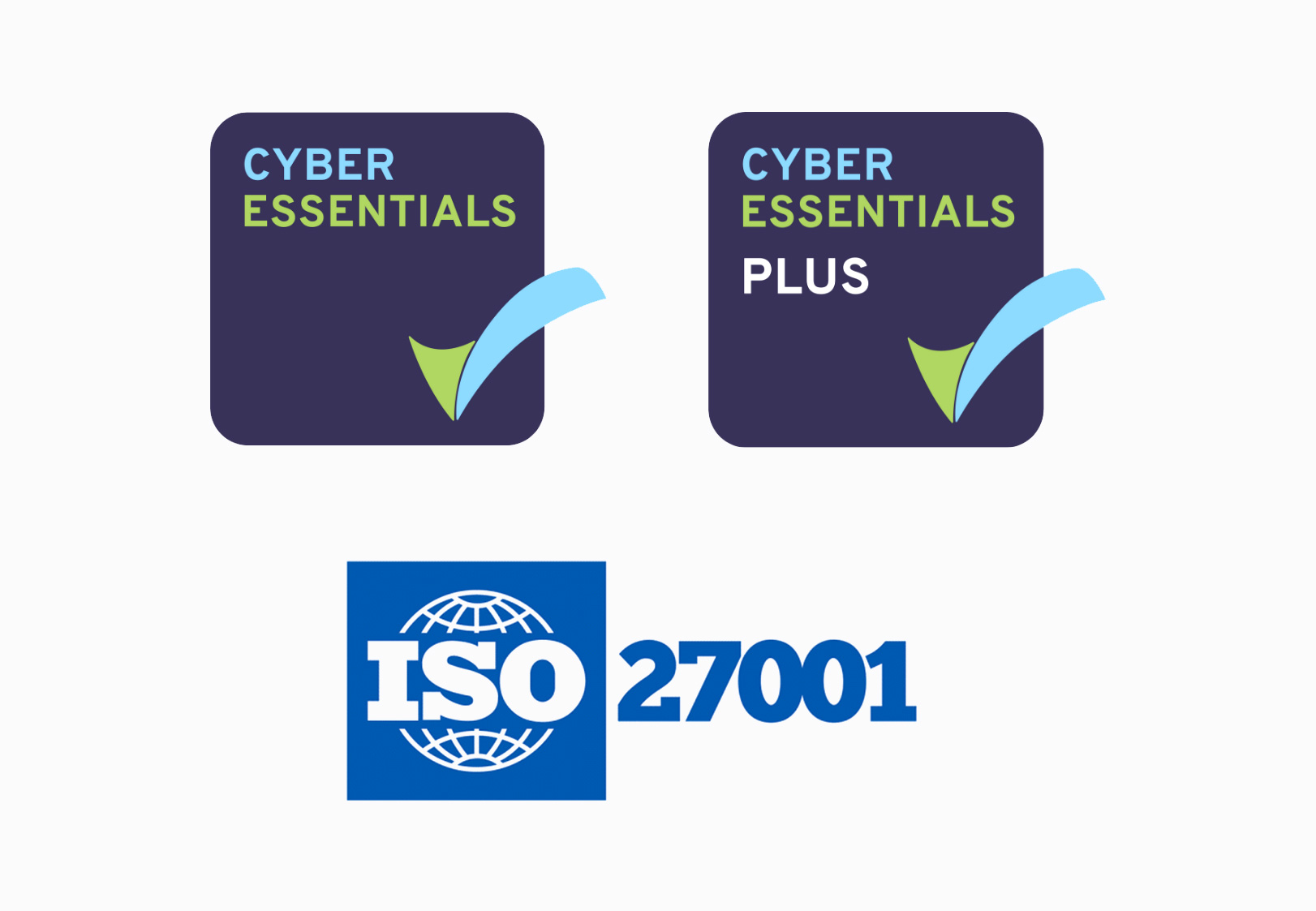 Cyber Essentials is a government backed scheme that helps organisations protect themselves, and their clients, from the consequences of cyber-attacks. There are two levels of certification, which need to be renewed every 12 months to ensure protection against the latest vulnerabilities.
The basic Cyber Essentials is a detailed assessment of the controls you have in place to protect against the most common cyber-attacks, viruses and malware, ensuring data and services remain safe and secure. This is the standard base-level of cyber security every organisation in the UK should have.
Cyber Essentials Plus takes this one (big) step further, with an independent licensed auditor actively testing for vulnerabilities in your security systems. This is a thorough assessment that checks the effectiveness of your defences across many aspects of your organisation, including systems and device patching, and threats via email and websites. Cyber Essentials Plus is a considerable undertaking and will need significant investment in time and money to ensure your systems are robust enough to pass the technical audit.
ISO27001 is the next (huge) step up. It is the international standard for information security, and it means that your organisation will be recognised worldwide to be adhering to cyber security best practices. It's a complete management system, with mandated specific requirements that are formally audited annually.
The auditing process is extremely thorough and tough. S8080's audit takes five full days to complete and tests every aspect of our business for information security vulnerabilities. Our team are interviewed, and our processes and procedures are tested to breaking point. It's an absolutely exhausting week!
What does all this mean for you?
Our certifications can be used to demonstrate due diligence when working with us. You can be certain will manage your information providing assurance of data confidentiality, integrity, and availability.
These cyber security standards evolve over time, as threats become more sophisticated. And therefore, so do our operating procedures and practices, which are then rigorously audited and tested annually by third party specialists for compliance. And only when we pass will we achieve the recertification.
This basically means that the things we build for you are resilient to constantly evolving security threats, and your data and reputation are protected.
Sleep easier, we do!