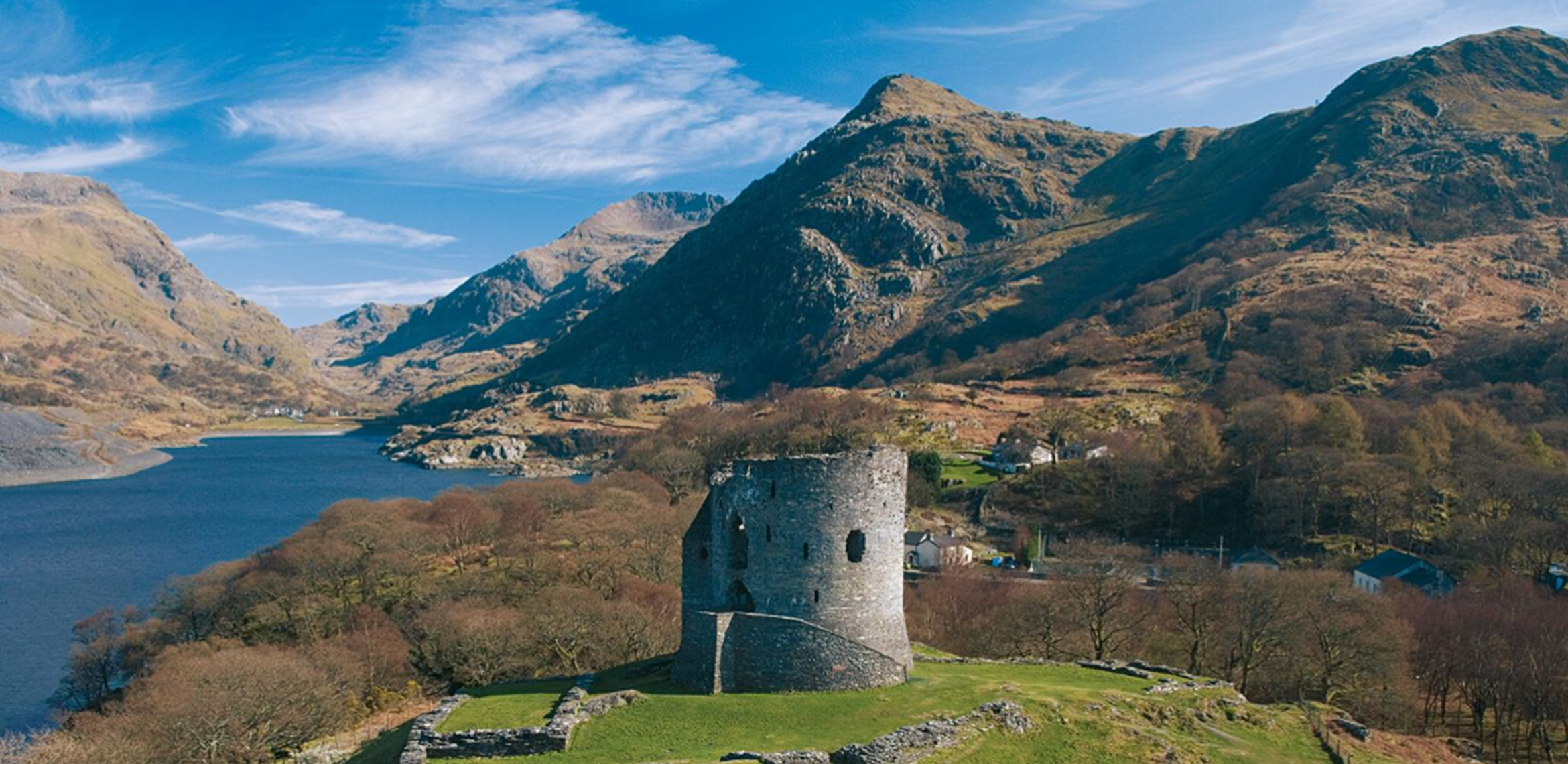 Helping Cadw re-design and build a new user-centred website.
The requirement
Cadw is the Welsh Government's historic environment service working for an accessible and well protected historic environment for Wales.
Cadw provides online information to a range of audiences including visitors, owners of Scheduled Monuments and Listed Buildings, researchers, commercial customers and educators.
User research and design enhancements were needed across Cadw's range of digital services to ensure useful and timely content that could be accessed easily to all audience types.
The solution
We worked with the communications team at Cadw, to design and build a new customer facing website focusing on user needs across a variety of user groups.
We adhere to GOV.UK Service Manual principles, ensuring our projects meet government standards and align to agile delivery phases including Discovery, Alpha, Beta, Live and Retirement.
During the Discovery phase we undertook user research of the Cadw website's current and potential audiences, to identify user needs, behaviour and motivations.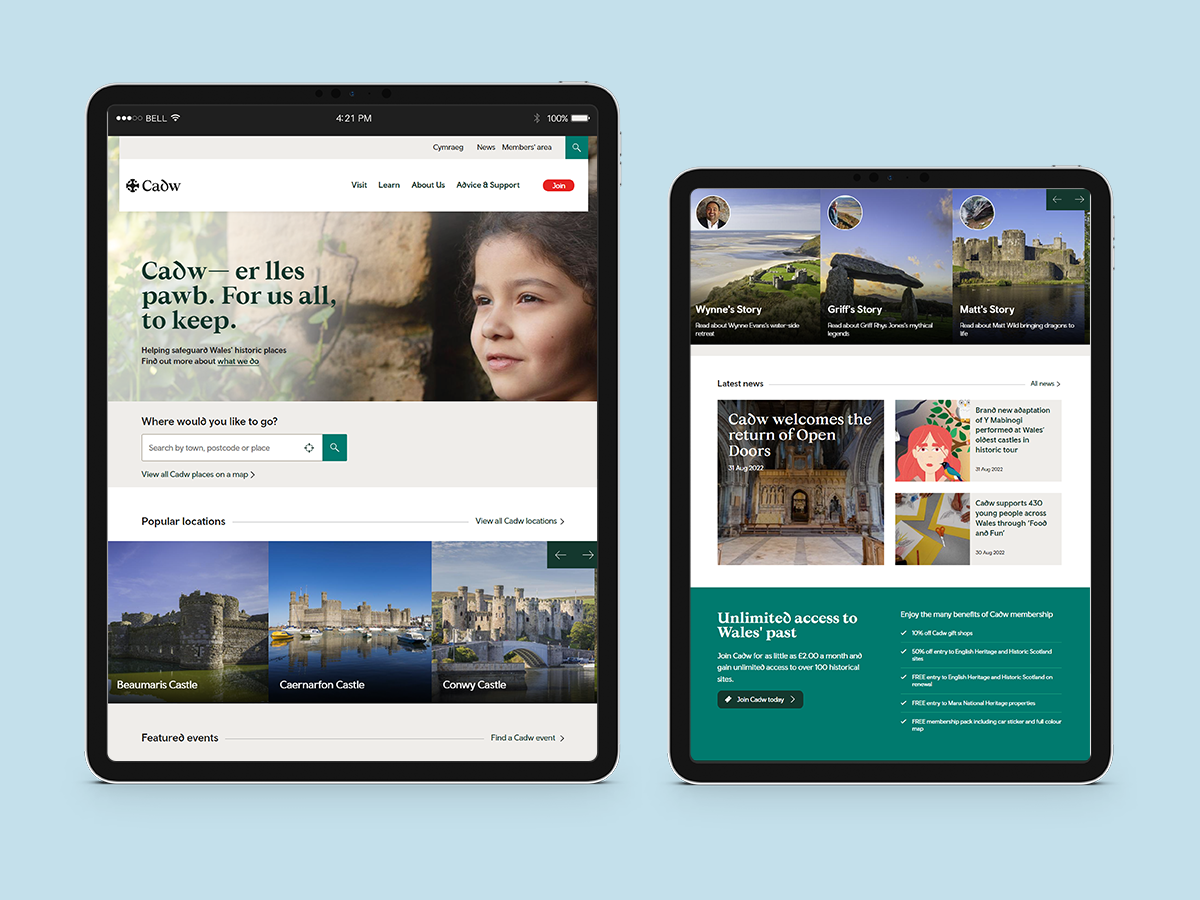 This covered
Face-to-face research with internal Cadw stakeholders, visitors at Cadw sites, site owners, planning authorities, specialists, researchers.
Cadw member testing (via an online questionnaire).
Existing analytics and user research review to establish where improvements should be focused.
Content review to establish accuracy and relevance.
Research outcomes gave us a greater understanding of user types and helped us to create initial IA concepts that supported a realistic weighting for key and general visitor goals.
We then developed wireframes and clickable prototypes, which were tested by stakeholders and iterated.
As part of the creative design phase, our design team hosted creative workshops with key Cadw stakeholders, gaining insight into expectations for visual design, branding, and content strategy. Our designers then used this knowledge to create a visual component library that worked seamlessly across the multiple templates defined in the wireframes.
Visitor templates were developed to provide information about Cadw's 130 monuments. These templates are highly visual with rich content components encouraging browse journeys. Banners, interactive carousel, sliders, maps and aspirational photography allow users to plan every aspect of their visit to Cadw locations, from itinerary to accommodation.
Trade templates were developed to support and inform site owners, planning authorities, specialists and researchers. These are functional in appearance: imagery was kept to a minimum with less template layouts and more emphasis on creating scannable lists allowing for shorter user journeys.
The site was built using the open-source platform Drupal: a robust content management system, used across Welsh Government, with enhanced administration control, customisation, and security.
Just some of the site's custom functionality
'Find a Place to Visit' monument search - utilises modern browser's Geolocation API to capture user's current location and feeds that into Google Maps' Geocoding API, providing users with a collection of Cadw monuments they can visit. Monuments are ordered by closest to where they are right now, or by any manually entered address.
'What's On' tailored events for all monuments. A heavily customised approach to event filtering, considering single events, events with multiple dates and times, the result is a very powerful events listing page, perfect for Cadw's packed schedule.
Bilingual functionality implementation.
Integration with GOV.UK services including GOV.UK Notify.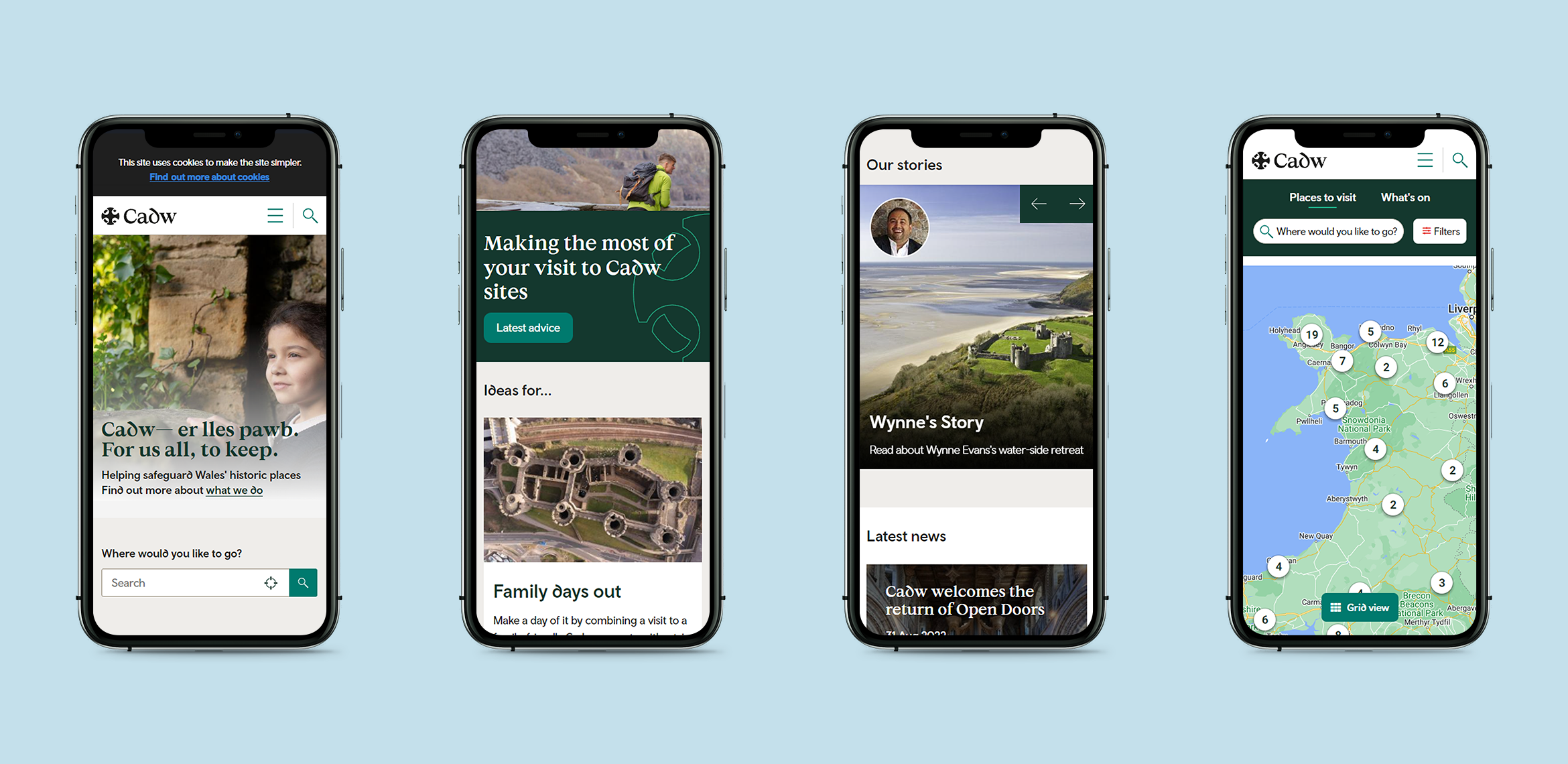 The result
December 2019 (compared Dec 2018)
Users + 13% Sessions + 17%
In the build up to the Live phase of the project a private beta website was user-tested to ensure government accessibility requirements were met along with quality assurance checks across multiple screen sizes.
The Live website has successfully increased user numbers and gives administrators a structured CMS facility to effectively manage Cadw's 130 monuments, keeping users informed of up to the minute facility changes.
Users are now presented with a consistent visual language across Cadw's range of digital services.
We continue to work with Cadw developing website services, supporting administrators and the development of the CMS as user engagement continues to grow.
Thanks a million for working on this, it really is a huge improvement!!!
See: cadw.gov.wales

Categories
Accessibility Design & build Public sector UX & usability