We recently designed and built the website for the newly formed Development Bank of Wales (Banc), a wholly owned subsidiary of Welsh Government that provides loans and equity investments to business based in Wales.
Rethinking the application process
Our first task was to talk to the users. Detailed analysis of the audience types began with workshops with both end users and stakeholders, to ensure that the site was centred around the user's needs.
The No.1 requirement was for new and existing businesses to quickly determine whether they would be eligible for finance – rather than filling a long application form only to find they did not qualify at the end. The new eligibility checker is designed to provide a 5-minute check to let them know if they are eligible, how much finance they could potentially raise and how to start the application process.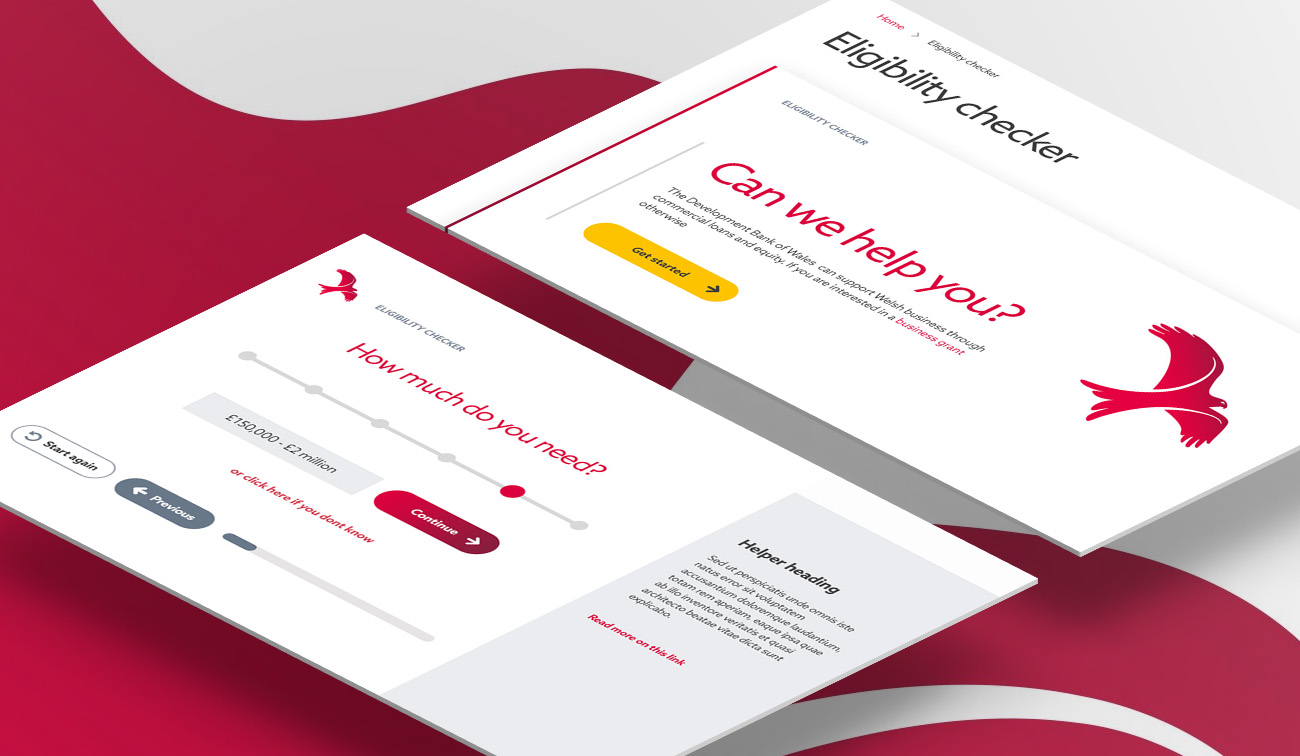 The next priority task for users was to quickly apply for loans. We developed a fully encrypted, multistep application form for users to apply for funding and to save their progress at any time, so they can resume the application later.
The clickable prototypes went through an A/B user testing process to maximise the effectiveness of each layout to improve the experience, speed and to minimise drop out. With a rules-based engine, the form dynamically changes the questions and the proof required from the user. This tailoring of the form speeds up the application process considerably. In the back end, the intuitive and streamlined administration facility helps the team at Bank of Wales assess loan applications quickly and get back to the businesses swiftly.
Brand development
Working closely with their branding agency, we took the emerging offline brand guidelines and developed it ensuring it was suitable for the digital space, particularly around accessibility, whilst ensuring consistency across multi-channel touchpoints.
We refined the information architecture to structure and focus the content around the key user journeys, simplifying the language and reducing the total volume of pages. The site contains bespoke layouts for a range of content types including case studies, news and events to further help users in their decision-making process.
Drupal 8 CMS
The site is built on the open-source Drupal 8 content management system (CMS). This provides a secure, reliable and future proofed bilingual solution which is easy for the communications team to administer.
Reassuring feedback
Due to the client's passion for user-centred design and the obvious security aspects, it's a fascinating project to be involved in. The team at Banc has had encouraging feedback from businesses who have tried the new, streamlined application process:
Has to be the most straightforward online application I've ever had to complete, and I complete a lot of various online application
forms
Very easy to complete the form
Very easy to use and very simple to submit
Categories
Design & build Drupal Open Source Public sector UX & usability