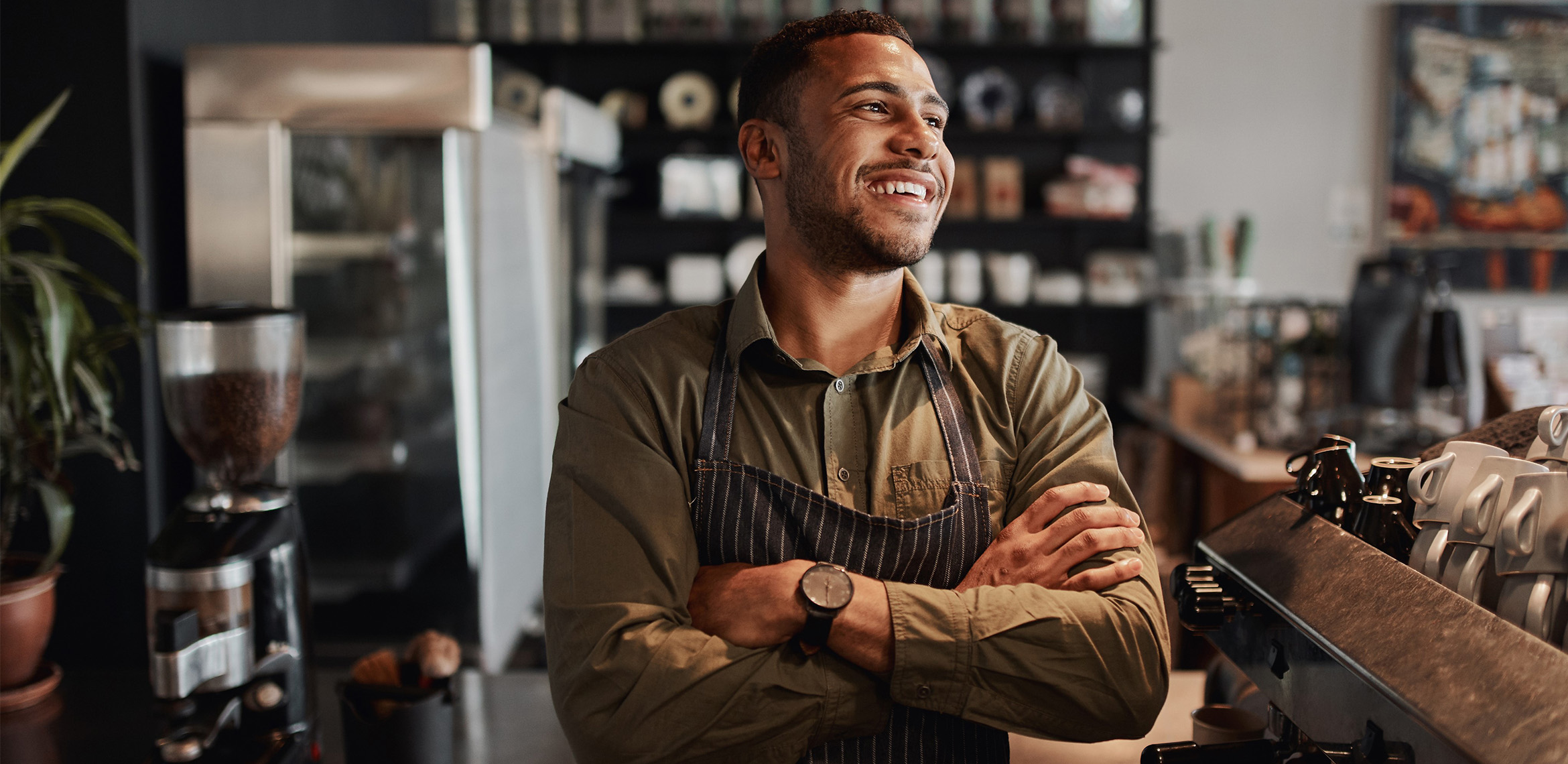 We were tasked with a site transformation project for Business Wales. They sought to revamp their existing web platform to be consistent with Welsh Government's GOV.WALES design standards. The challenge was clear: create a more user-friendly, accessible, and cohesive platform. User feedback had pointed out the need to streamline the experience, reduce brand fragmentation, and standardise layouts.
Understanding the goals
In collaboration with Business Wales, our journey began with an in-depth kick-off meeting. This allowed us to establish an understanding of their organisational goals and the unique needs of their varied user base. All whilst recognising the importance of aligning with WCAG 2.1 AA accessibility guidelines and Welsh Government GOV.WALES design standards.
Discovery phase
The basis of our approach was the comprehensive discovery phase. To ensure our proposed solutions met a broad range of user needs, we conducted a review of the Business Wales personas. This provided valuable insights into the varied user groups we needed to accommodate.
We analysed the existing Information Architecture to identify areas in need of improvement. This allowed us to restructure the platform for optimal navigation. Finally, a detailed audit of the existing page layouts and content was carried out. This uncovered opportunities for enhancements and reorganisation, which formed the basis of Business Wales's content strategy.
Content refinement
Building on insights from the discovery phase, we looked to reorganise the content into two paths:
Browse-Based Journeys: recognizing that users often prefer browsing by their unique interests, we restructured content into browse-based journeys. These journeys aligned with user personas, ensuring users could easily find information relevant to their needs. 'Thinking of starting a business', 'Running a business' and 'Growing a business'.
Task-Driven Journeys: In addition to browse-based journeys, we created task-driven journeys. These were crafted to cater to users seeking specific topics and guidance. This approach facilitated quick and efficient access to essential information. For example, "What are my business rates this year?".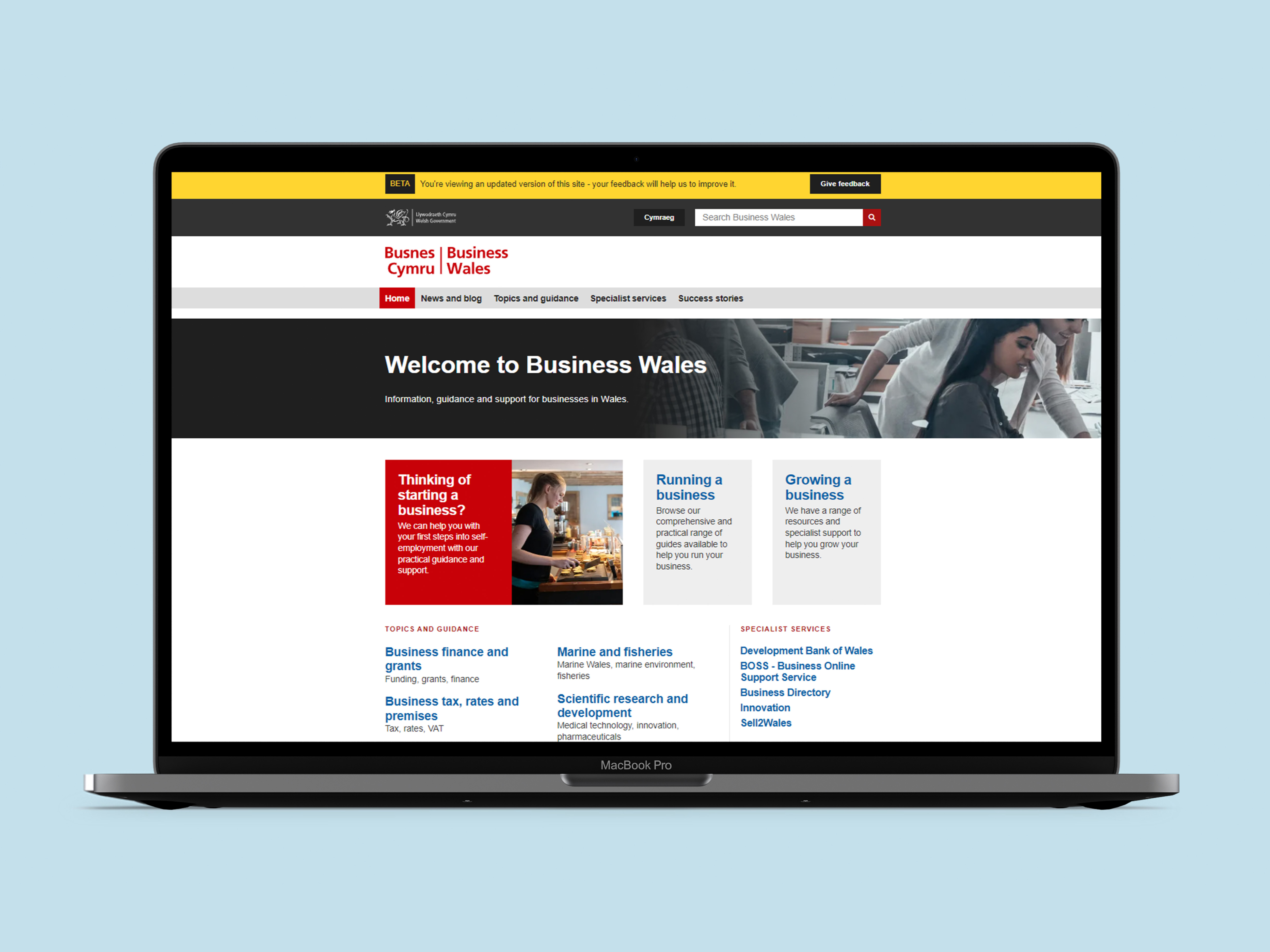 Redevelopment and standardisation
The core of the project involved a complete redevelopment of the main Business Wales website. We implemented the new GOV.WALES Global Experience Language (GEL) templates and components, a critical step in achieving consistency and user-friendly design.
One of the key benefits of implementing GEL was the creation of reusable design elements. These standardised components were used consistently across the entire website and its subsites. This not only delivered a unified look and feel but also proved to be a smart cost-saving measure by reducing future development expenses.
What we did
Held a kick-off meeting to define goals and user needs. 
Conducted a comprehensive discovery phase, including an extensive persona review, Information Architecture assessment, and content audit. 
Refined content into browse-based and task-driven journeys. 
Implemented GOV.WALES GEL templates and components for a cohesive design. 
Conclusion
This project serves as a testament to the efficient collaborative work we have been able to achieve with the Business Wales team and the Welsh Government Central Design Team. The combined efforts to ensure a full understanding of organisational goals, refining content, and implementing GOV.WALES GEL resulted in an easier to understand and navigate platform for all users visiting the site.
Take a look at businesswales.gov.wales 
 
Categories
Accessibility Design & build Digital marketing Drupal UX & usability