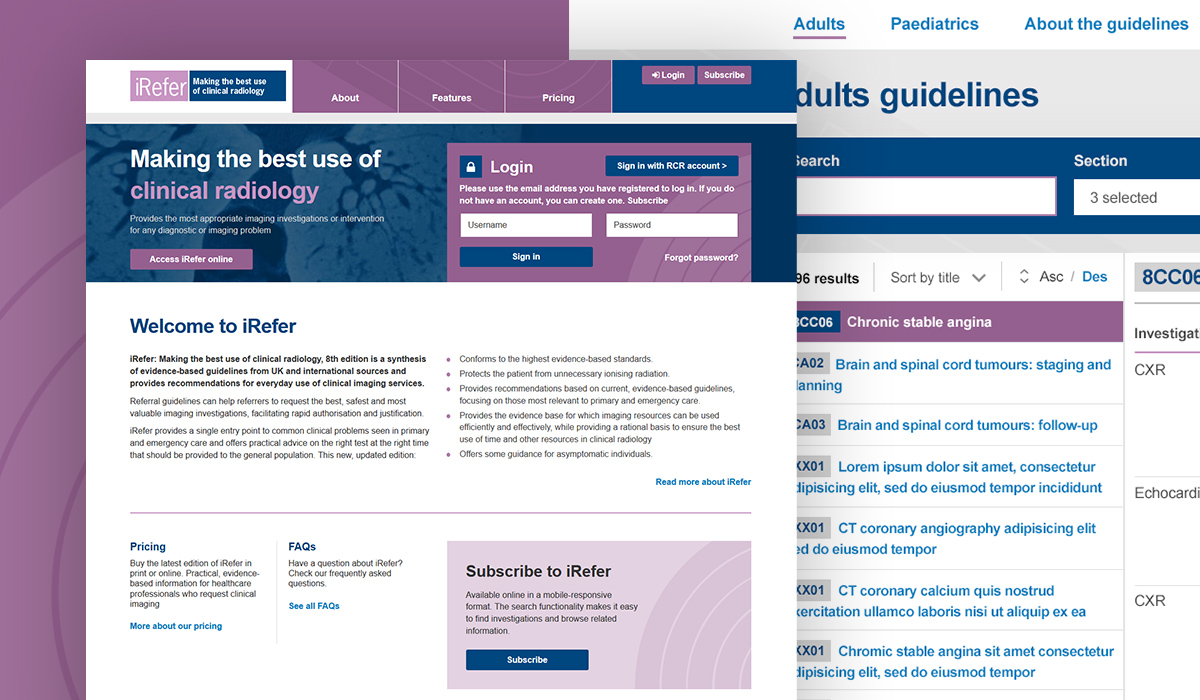 The Royal College of Radiologists (RCR) has published its radiology referral guidelines, 'iRefer' since 1989. These guidelines are designed primarily for general practitioners and those working in secondary care. Their purpose is to help clinicians, radiologists, radiographers and other healthcare professionals to determine the most appropriate imaging procedures for a wide range of clinical problems. They are widely recognised and praised in the UK and internationally.
As we designed and developed RCR's website and online systems, they asked us to modernise and redevelop iRefer, adding mobile support and improving the functionality and features for their users.
The aim of the redesign
Update the design and improve usability along with navigation
Updated templates to provide responsive / mobile friendly layouts
Add Single Sign On (SSO) access via the RCR website to streamline login
Developed a system to build your own iRefer – 'MyRefer' – users can create their own mini versions of iRefer based on 'bookmarking' the guidelines that they use most often
Added different ways of displaying the guidelines content – users can choose to aid navigation; for example by category (breast cancer, etc.), symptoms, modality (CT, MRI, etc.) and alphabetically
Add signposting to related tools and resources (including external sites)
Include revision log of changes to guidelines
Added a payment mechanism to manage subscriptions
Gave the ability to manage users including streamlining and consolidating the administration system
Enhanced search functionality
Incorporation of analytics – covering search terms, most popular guidelines, etc.
Support for IE8 (commonly used in NHS settings)
Increased information security
In a bit more detail…
The platform of choice was Drupal 7, chosen for its stability, mature set of contributed modules, and crucially, due to the need to support IE8, which is still prevalent in NHS hospitals.
A responsive theme built on top of the Bootstrap 3 framework was extensively tested using s8080 test devices and Browserstack. Single Sign On (SSO) was integrated to allow users to login to the iRefer website using their RCR website account credentials.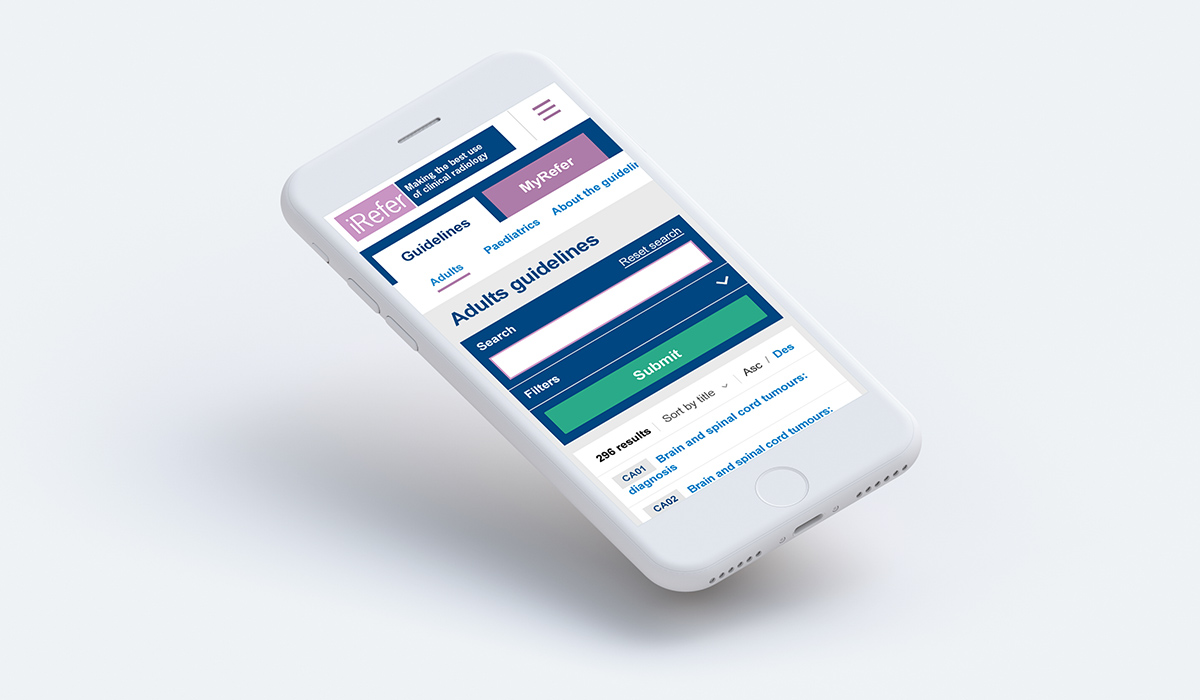 To provide better search results, guidelines were remodelled to facilitate advanced searching, and the Apache Solr Search Engine was used to provide highly scalable and powerful, full-text search with advanced configuration allowing fine-grained control of search results. We also re-worked the information Architecture (IA) and user interface, going from a multi-route, category based, browsing interface to a sleek single-route, search focused interface.
Customised content is provided to users in their MyRefer section, this includes a history of recently viewed guidelines and a bookmarking section where users can organise their saved guidelines into folders using a drag-and-drop interface. Integration into the RCR Ecommerce system was developed to streamline subscription payments.
S8080 hardened the security and finally, before go-live, penetration tests were run by an external security company. The Drupal core and contrib' modules are monitored by S8080 team and kept up-to-date during our weekly patching schedule.
Categories
Drupal Open Source UX & usability