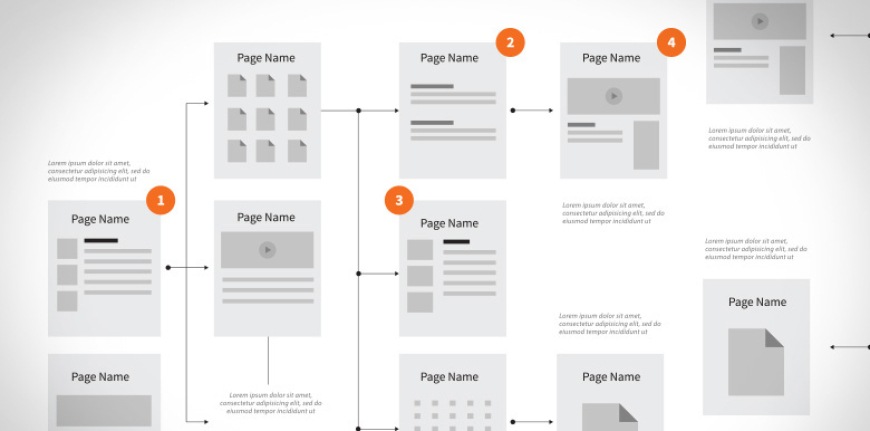 During the information architecture (IA) phase of your project we re-categorise your information and define your site hierarchy – evolving how your website behaves in response to a user travelling through it, honing the arrangement of content elements within the 'information space'.
Remember, everything we do is centred around your users, so a well-considered IA will mean your audience will be able to find what they are looking for easily and quickly. They will understand the navigation structure and the labelling you use, they will appreciate the effective and useful signposting placed at strategic points in your information architecture, helping deliver to them the content they need. You'll have very happy users indeed
---
The IA planning process
Depending on the scope of your project, and if it's a new build or the improvement of an existing site, we'll approach the information architecture phase in different ways. A user centred design approach means we'll refer back to our personas, the distinct user journey mapping and optimal routes that would have evolved from that piece of work. We may utilise various tools to solve particularly tricky taxonomy problems including card sorting exercises. This helps us define the terminology, labelling, categorisation and grouping of content that our users understand - using a predictable vocabulary rather than your organisations 'internal' language.
---
IA planning workshops
Then we get the Post-it notes out. We start to rapidly build the site structure on a wall, in a workshop environment. This develops into the 'first pass' IA.
As a group, we check this against the personas – does it meet their needs? Is the information structuring logical? Are the user's touch points consistent with the user journeys? Is the signposting obvious?
Then we check the IA against your organisation's objectives and ask a very similar set of questions, interrogating every section of the navigation scheme until user journeys flow easily and obviously.
---
Our Information Architecture outputs
Back at base, we analyse the first pass site structure and content groupings, and we then align with the findings from the alignment, stakeholder and persona sessions. If your site is being redeveloped, this may include a content audit, inventory and content map, helping with your migration strategy.
At this stage we may undertake user testing depending on the size and scope of the project. Typically this will be card sorting either online or offline in a laboratory setting, so we can test the first pass of the regrouping of information and test key terminology questions.
We then produce a very detailed and annotated IA diagram, explaining the design of the website structure – it's a very thorough website information architecture that will be a vital tool to assist you with the content strategy and planning for your new site.