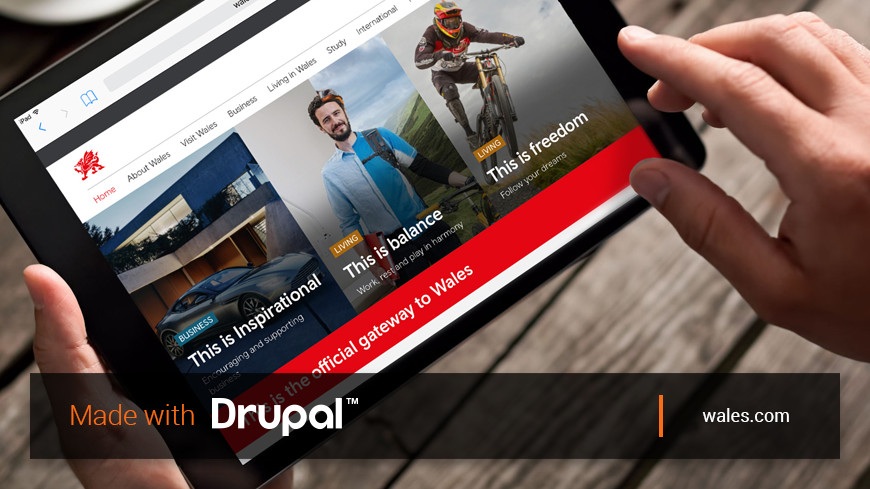 S8080 are an experienced and creative UK based Drupal development agency.
We've pushed the Drupal CMS to its limits for some of our more demanding clients, solving their complex integration, single sign-on, CRM, configuration and workflow problems cleanly and efficiently.
Our team have developed many high profile and complex websites for public sector and private sector clients including the Department of Energy and Climate Change (DECC), HM Cabinet Office, National Assembly for Wales, Welsh Government, Ministry of Justice the Duke of Edinburgh's Award and a number of Universities.
Browse our work and then contact us for a chat.

---
Seasoned Drupal developers
Our team of Drupal developers are seasoned experts - one of our senior developers has recently had a Drupal textbook published (and it's doing very well on Amazon). But they are not just 'front end' developers who throw a few modules together. S8080 is a very technical Drupal agency who has comprehensive experience in Drupal hosting, security hardening and Drupal systems performance.
Our development team understands what Drupal does well and will guide you every step of the way – making sure you get a lean but functionally rich website. We are well known for our straight talking, so if we feel an external 3rd party web service will do a better job than a custom Drupal module, we'll advise accordingly. Why reinvent the wheel?
---
Sublime Drupal support
Due to our extensive experience working on the most important websites in the country (No.10 Downing Street for example), we are often called in to help breathe new life into an existing Drupal website, helping update the site, secure it and increase its performance.
This is often combined with a rethink of the information architecture and streamlining and modernising the user experience and Drupal functionality. We have some truly amazing stories of how we've done this for some significant clients.
---
Custom and off-the-shelf Drupal modules
The Drupal framework is infinitely extensible using 'modules' that are developed in a coding language called PHP. This flexible system means that you can add very specific features and functionality to your core Drupal website. There are many robust and well supported 'off-the-shelf' modules available; they are generally free of charge or very good value for money. This ensures a quick and easy upgrade process - for security patches and version updates.
This also means your Drupal website is transferable - you are not tied to S8080 as we will do everything we can to try and keep things 'standard' for you.
So whatever features you want on your site, the chances are that there's already a module for it, but sometimes 'off-the-shelf' doesn't cut the mustard.
As we have worked on all types of websites across many sectors – extranets and intranets, corporate websites, large information portals, marketing sites and ecommerce, a core part of our expertise is in creating custom Drupal modules and bespoke Drupal themes. We've developed custom Drupal modules for clients including Welsh Government, Swansea University, Royal College of Anaesthetists, University of West London and many more.
---
New to the Drupal CMS?
Drupal is an open source content management system and is the web publishing platform of choice for millions of websites and web applications worldwide. It is capable of support sites of all sizes, including enterprise level websites.
Its core software and modular system is developed by a vibrant and fast paced community. This means is it updated regularly.
Drupal CMS is free. Most of the modules are free too. This means organisations don't need to pay for software licence costs – this frees up budgets for the important stuff: user experience, engaging designing and robust, secure functionality.
Some of the world's most prestigious sites are powered by Drupal including The Whitehouse, Ikea, Welsh Government, Sony Music, Economist, Harvard, and Twitter. The reason Drupal is so well respected is because security is taken seriously, the platform is so well supported by an enormous developer community and it represents unmatchable value for money.
---
What key Drupal services do we provide?
We have been designing, developing and managing business-critical, complex websites, and web applications since 2000, working with some of the UK's most important organisations. We offer the following services:
Drupal website design and build including bespoke themes and templates
Drupal Multisite and enterprise CMS development
Drupal development, support and consultancy services
Custom Drupal module development and API development
Integrating Drupal with business systems including linking into 3rd party web services
Microsoft CRM integration, SharePoint integration and many, many more!
And of course supporting you – both technical support and 24/7/365 hosting support
---
Tell me about some of the more complex work your Drupal developers do?
Bilingual websites and multilingual websites
Drupal Multisite development – that means that many sites with different branding can run off the same Drupal CMS installation, each with their own unique URL
XML integration into 3rd party bespoke systems
JSON integration with.GOV.UK delivery platform / R.E.S.T. services
Microsoft SharePoint integration
LDAP integration for authentication / sign in
Extremely complex workflow, moderation and secure access areas with distributed content management across hundreds of publishers within an organisation
Blogs, events systems, publications databases, document libraries, surveys and polls
Social media integration
Integration with CRM systems including MS CRM / Dynamics and SugarCMR
Integration with 3rd party bespoke systems, APIs, XML importers and JSON feeds and of course bespoke module development
Setup of hosting, security hardening, PEN testing and provided consultancy on server infrastructure requirements (we hold IL2 classification and have Counter Terrorist Check clearance)
---
What about other platforms?
S8080 develop websites using many content management systems including the enterprise level EpiServer, Umbraco, and WordPress. Each one has its own strengths. It is telling that most of our clients choose the Drupal CMS, but if you would prefer to utilise another CMS, please let us know. We are a very flexible agency.