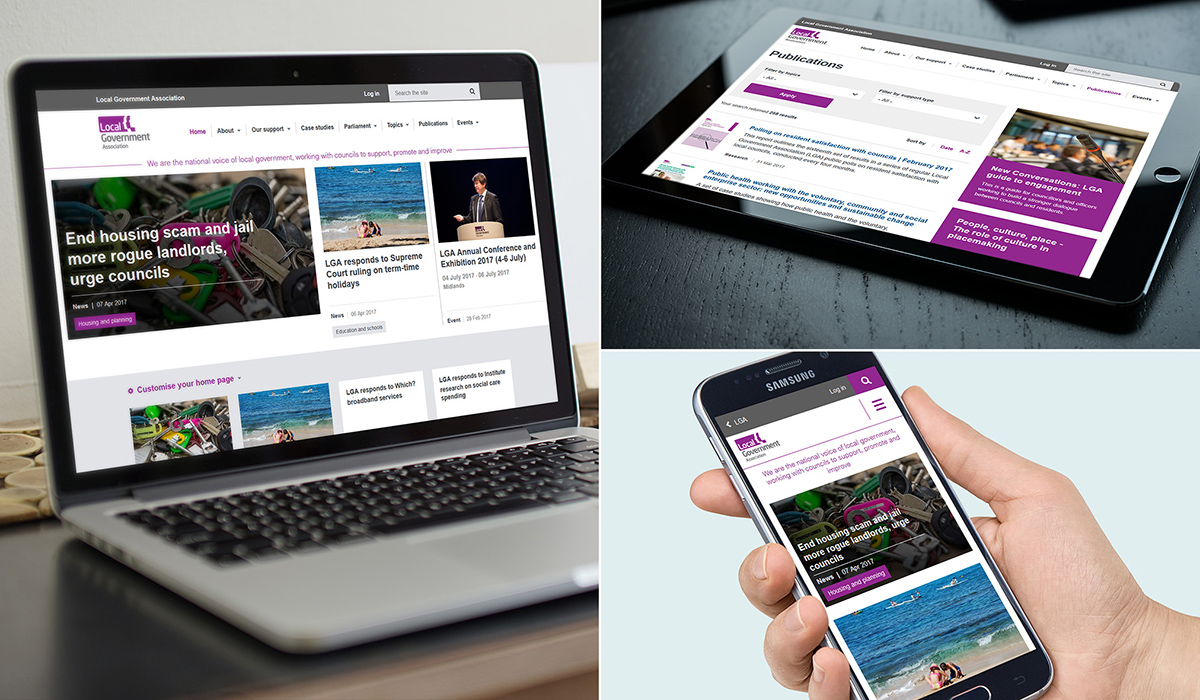 The Local Government Association are the national voice of local government. They work with local councils to ensure representation at a national government level. The LGA offers an impressive range of practical support for its members, everything from car and health improvements through to comms and corporate development.
S8080 also have plenty of experience working with local government – our clients include many councils including a recent site launches for Nottingham City Council and Haringey Council.
With a broad range of user needs and high volume of content, the LGA needed a new site that would communicate a large amount of information across a wide range of topics. Because of the large volume of content, the new site needed to make it easy for users to quickly access what they were looking for, offering a personalised experience.
After conducting user interviews face to face and via telephone, S8080 identified key tasks for the different audience types and prioritised each user's needs. It was also vitally important that the new site surfaced the extensive range of services support available to councils and councillors through England and Wales.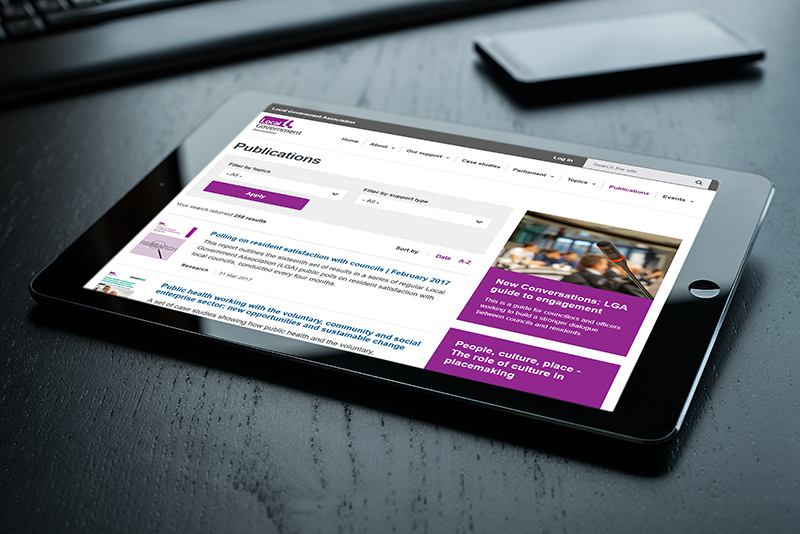 As well as identifying goals, issues around creating clear and consistent terminology that could be understood by internal and external audiences were considered. These interview findings then fed into the creation of very detailed personas and user journeys before the wireframes and hi-fi prototypes were created.
Due to the considerable amount of content on the existing platform, it was critical that an audit of existing content was undertaken to assess the task of migration to the new Drupal CMS. As part of the content mapping improvements to terminology were made to ensure labelling could be clearly understood by a variety of audience types.
The major challenge at the wireframing stage involved creating templates that were as flexible as possible, housing multiple content types whilst giving the user clear sense of place and indication of the purpose of the page. Through the wireframing process we managed to create a limited number of layouts that could be utilised to sensibly structure the content and create clear user journeys.
With such a breadth of content on the site, to present the user with as relevant content as possible, the user can personalise the topics they are presented with based on their individual preferences.
The visual design phase needed to develop the wireframe layouts into hi-fi prototypes that adhered to existing brand guidelines and created a visual system that was flexible enough to house multiple content types. Page templates were created that would make use of the available real estate of modern screen resolutions and create engaging content with clear hierarchical structures.
Over twenty thousand items of content were successfully migrated from the existing legacy CMS saving the client hours of manually loading content into the new CMS platform.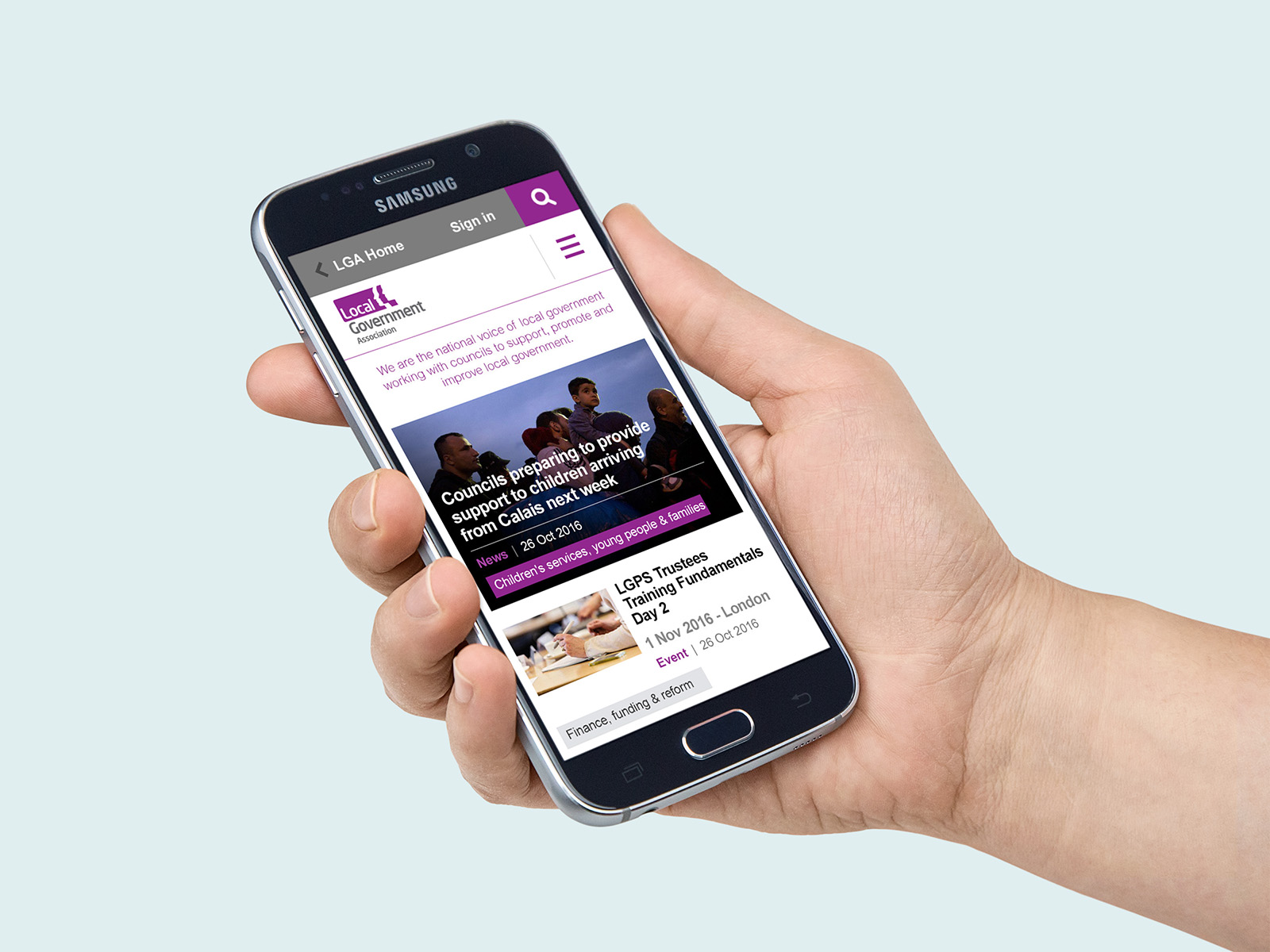 The site has been built using the newly released Drupal 8 content management system, meaning it benefits from performance improvements, an enhanced admin UX and more control from a development perspective. With the open-source Drupal 8 CMS it also means a more 'future-proofed' site and a greater level of security and performance for users and their data.
Other technical features include integration with a 3rd party events API and an area for members to access restricted content. Branded colour coded sub themes also needed to dynamically filter content related to various political groups.
The LGA team has been wonderful to work with at every stage of the project, constantly engaged and receptive to feedback – the amount of work they put in to make the project a success was phenomenal. It's always an absolute pleasure to work as part of a team with an engaged client. The results speak for themselves – a modern, secure, clearly structured and visual engaging site that will become a focal point and useful resource for local government across the country.
Categories
Accessibility Design & build Drupal Open Source Public sector UX & usability