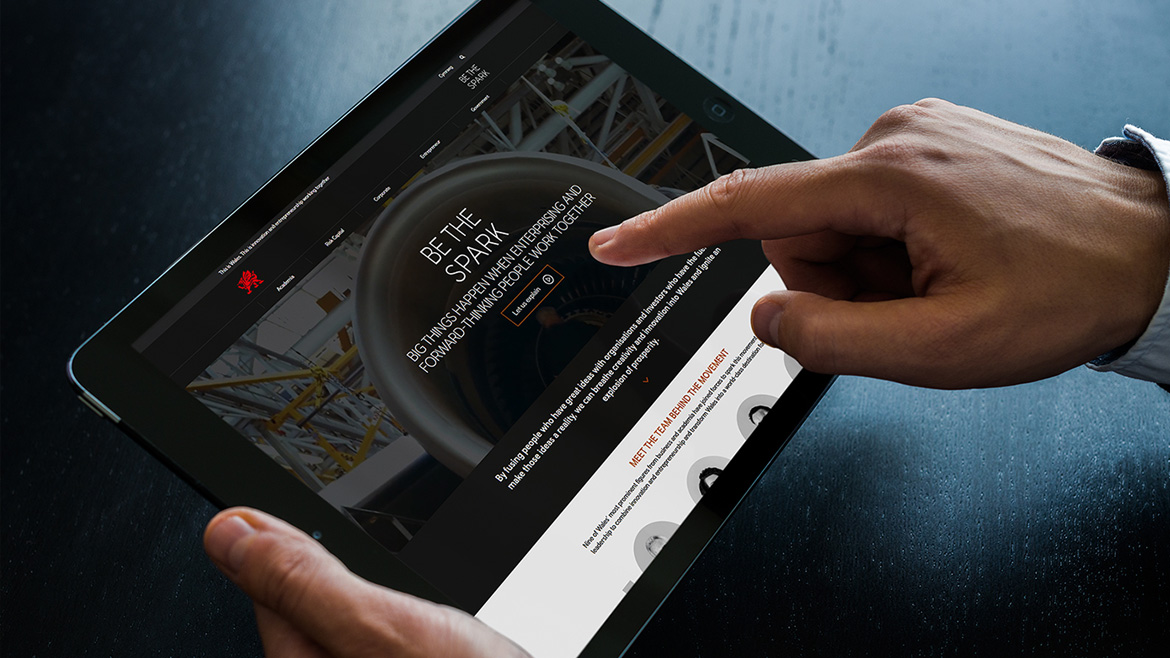 The Welsh Government needed a web site for a campaign that would bring together people with great ideas and facilitate a movement of entrepreneurship and innovation across Wales.
Nine of Wales's most prominent business leaders are working with the Welsh Government as part of their 'Be the Spark' campaign, to bring together forward thinking people throughout various sectors.
The website needed to meet the expectations of the Welsh Government whilst achieving the goals of the nine panel members. As the web design and digital agency for the project, we worked closely with a leading marketing agency who were tasked with implementing the campaign as a whole.
Whilst the initial phase of the project set out the objectives of the movement, it needed to be implemented with the long-term vision for the project in mind. Ultimately the goal is that the project will organically grow a community and culture of innovation across Wales.
The initial impact of the site had to engage and inform the audience. A prominently displayed video background combined with a video explainer was used to immediately engage the user and introduce the Be the Spark concept. As one of the first sites to implement the new Wales brand, the new website had to adhere to the brand guidelines whilst at the same time finding its own identity. The overall result is a modern, impactful and engaging site that is in line with the expectations of this user group.
With the longer-term goals of the project in mind, engagement with the site was a critical factor in creating traction for the movement going forward. With a diverse range of user groups from business to academia, it was critical to serve content that was pertinent to each type of user. The strategy of the information architecture was to create a clear user journey for each distinct user group, allowing for relevant information to be served and resulting in increased engagement.
The site was built using Drupal 7 which gave the content editors a stable, scalable and easy to use content management system. The site is fully responsive and CSS3/HTML5 compliant. Using CSS3/HTML5 enabled smooth scaling, colour changing image transitions. Flexible and fast loading carousels contributed to the modern, fluid experience.
S8080 are very proud of how the site came together in such a short time and to such a high standard. We look forward to working on future phases of the project and helping to drive innovation and entrepreneurial culture across Wales.
Categories
Design & build Open Source Public sector UX & usability